Trias WWII UNITAS 6497

I have always loved classical, elegant and yet not too dressy watches especially with a hand wounded movement.

The Trias WWII is such example. It has the flair of the Chronoswiss Timemaster artistic dial, the case of Martin Braun and its heart beating from the ever reliable UNITAS 6497 workshorse.The best part about the Trias WWII lies with its price, which is just a fraction of what Chronoswiss or Martin Braun costs.

Case

It is also worthwhile to note that the case design that the Trias WWII used are also used by renowned matchmaker like Christiaan van der Klaauw, Martin Braun, Muhle, Limes & etc. The design of this sort is popular with dressy watches with its protruding coin edge/bezel, long lugs and display back.

Dial

I can't quite make up what sort of dial design this is to give it a name, but surely a design from the yesteryears like the 40's. It can be found in Chronoswisss & etc. with its popular rail track on the rim and bold 12/3/6/9 numeric markers.

Movement

The Unitas, now owned by ETA started life back in the 50's as a pocket watch movement and has since been very popular with grande watches. The Unitas can be found in many brands like, Zeno, Martin Braun, Officine Panerai, Orfina/Royal Navy, Glycine, Jacques Etoile, O&W & Stowa, UTS, MeisterSinger, Schwarz Etienne, MSC, Epos & Eberhard among the few.

Most of the time, being an expensive watch or not, the movement usually comes in several types of decoration: some come undecorated, some with blue screws and some with geneva stripes which is popular with watch makers when comes to decorations to be displayed on its crystal back. It is such a shame that some watch makers actually hides this beautiful and monstrous of movement.

What makes the Unitas based watch desirable lies with its beauty, accuracy, reliability and its exclusivity. Nowadays, most watches are normally fitted with the ever popular ETA's like the 2824, 2801 and so on (not to discriminate here as the ETA's is a solid movement and I own a few) but rather common. The Unitas based watch make this watch unique and is only used by a handful match maker to differentiate their growing range.

At this point of my writing, perhaps there are already a few more watch maker had used the unitas on their new watches and will soon become as common as the ETA's. One of the main reason why the unitas was revived exponentially is simply due to the trend of big watches.






Specification

Movement: UNITAS 6497 Calibre, Undecorated, 17 jewels

Oscillations: 18,800

Case: Stainless steel with coin edge, 43mm, onion crown, screwed bar

Case Thickness: 11mm

Back: Skeleton

Dial: Matte Black

Hands: Rhodium-plated

Strap: Calf

Water Resistance: 50m

Complications: 60 second indicator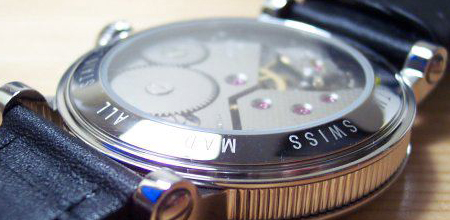 This is by far not a review or comparison but to show a variety of this design offered by numerous watch maker in this form. A mid range watch of this style would be the classic Martin Braun's Grande (Price $900). To give you an idea what sort of cost structure these watch maker charges, here's an example: A Zeno would most probably set you aside $450, Martin Braun $900 & Officine Panerai - in access of $3000.

The Grande refers to the size of the watch. With a diameter of 42mm, the first of Martin Braun's designs is a symbol of openness combined with timeless beauty. The exquisite guilloché dial, fine feuille hands and case with the coin-edge design are perfect for any occasion.

The movement that powers this watch is the hand-wound ETA 6479, adorned with Geneva Stripes and blued screws. The Grande is equipped with a "Triovis" regulator for optimal accuracy.

Additionally, a touch of nostalgia is added by the screwed balance wheel. The leather strap matches the elegance of the watch perfectly.


Movement: ETA 6497, Geneva stripes, blued screws, 17 jewels

Oscillations: 18,800

Case: Stainless steel with coin edge

Case Thickness: 10.5mm

Back: Skeleton

Dial: Ebony or silver guilloché

Hands: Rhodium-plated or blued feuille

Strap: Alligator

Water Resistance: 30m

Complications: 60-second indicator



Other ~ Unitas 6498

Clockwise from left ~ Jaques Etoile, Schwarz Etienne

More information on Unitas can be found at Unitas reference site Unitas calibers ~ http://www.unitas.netfirms.com


Trias is relatively new in the watch making industry and are virtually unknown and unheard of until recently. Thanks to its positive strategy (read about Trias below) Trias are making shores to many markets with their blend of affordable and yet good quality watches. It is also worthwhile to note that there is another beautiful Trias model which spots a coin edge bezel and back, 40mm in diameter, Unitas calibre which is identical to Chronoswiss Timemaster design.

Brief information of Trias Germany

The term "TRIAS" originates from a latin word which meant as much as three-ness or three things combines to become one. The name TRIAS reflects the three requirements that Trias follows: TRIAS timepiece unites a timeless and elegant design with high-quality and an excellent price ratio! Trias take this firm philosophy as a basis for our daily work and to carry out in each individual TRIAS. The magic number of "three" has further meanings in our philosophy:

TRIAS timepieces also represents country, water and air exploration, it is also the choice of our Logos, which contains the three elements of water, country and air. it is also used to represents the range of timepieces offered: Flieger, sport and classical models. The assortment covers a broad spectrum, from the oversized XXL flieger timepiece to the classical range. All timepiece correspond to the high quality, which we ourselves address to our products: Exclusive use of high-quality materials (e.g. all models in high-grade steel), Mechanism and precision quartz works, Sapphire and/or particularly hardened mineral glasses, screw back, 24 months warranty, waterproof to at least 50m.

Owner: Daniel Lieser W-Dachstein-STR. 6-77654 Germany
Tel.: +49/781/9486124 fax: +49/781/9486125
E-Mail: info@trias-watch.com

Reference & pictures courtesy of: trias.com, martinbraunusa.com, watchbuys.com, babelfish.altavista.com (write up on Trias background were shortened & edited from the original).

Back to main page

Copyright © 2004 All rights reserved.